Services Available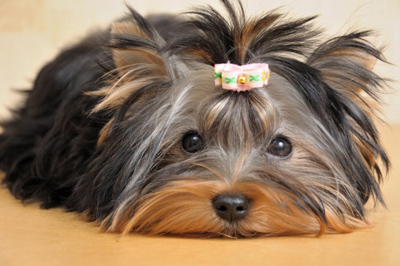 Bath/Nails/Tidy – Includes: Bath, nail trim, blow dry, brush out, shave sanitary areas, pads and feet; clean ears; express anal glands.
Face/Feet/Fanny- Includes all of the above plus trimming up around the face- no body trim.
Feather Trim: Includes Bath/Nails/Tidy and trimming of "feathers" on breeds like Golden Retrievers, Australian Shepherds, Border Collies etc.
Full Grooming (haircut) – Includes all of the above plus a breed specific or selected style haircut/trim.
These services may be scheduled by appointment or requested during your dog's boarding stay and will be performed on the day of pickup if your pickup time is 12:00 PM or later. Large, full coated, or multi dog households may require a later pickup time.
Appointments
Walk-in grooming appointments can be scheduled Monday-Saturday. Same day grooming appointments may be available by calling prior to 10:00 am.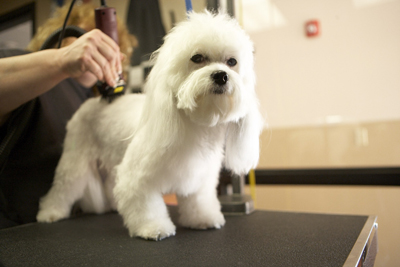 Availability varies depending on seasonal demand including proximity to holidays. We usually recommend making appointments at least 1 week in advance. However, please call and we will do our best to promptly provide a convenient appointment for grooming your pet.
To CANCEL an appointment, please telephone 24 hours in advance.
Appointments cancelled without sufficient notice are subject to a $25 cancellation fee. Frequent late cancellations or no-shows may be required to prepay in order to book a future appointment.
Hours for drop off and pick up
We request that all appointments drop off between 8:00-10:00 am. Earlier or later appointments can sometimes be arranged. At drop off clients will discuss with their groomer what they would like done and set a pick up time. Expect your pet to stay at least 3-4 hours depending on drop off time and service requested. Once grooming services are completed dogs are welcome to stay as late as 8:00 PM Monday-Friday, 5pm on Saturdays.  There is no charge for "Day Care" with grooming, feel free to leave your pet with us while you run errands or go to work. "Express Grooming" is not something we recommend for the majority of the pets we see. We feel that dogs are much more comfortable and happy if they get frequent breaks thru out the grooming process to go outside to a private fenced area for exercise and elimination, nap in their private home like crate, drink water etc. You may also sign your pet up for activities with the kennel staff during their day. Express grooming requires the groomer to perform all services straight thru and puts a lot of stress and pressure on an animal- leading to behavioral issues or dislike for the process. In the event that a pet requires express grooming due to owners schedule or a medical/anxiety condition, let the office staff know at the time of booking. Express grooming is subject to a $25 fee, express groom will still require at least 90 mins for a full haircut.
Vaccine Requirements:
For health and safety of all our clients no pet will be accepted without vaccination certificates or veterinarian exemption currently valid for the following:
Rabies
Distemper (DHPP/DA2PP)
Bordetella
Canine Influenza (CIV H3N2/H3N8)
For older dogs/dogs with vaccine reactions/Health Concerns:
Rexpointe will accept antibody titer testing in place of vaccination or a letter of exemption from your veterinarian.
Puppies- we do not have a minimum age requirement for your new addition! Key socialization happens between 8-16 weeks of age. Puppies must be current on age appropriate vaccinations. Starting early with breeds that require regular grooming is very helpful for them to learn grooming is a part of life and something to be enjoyed!
Please ask your veterinarian to indicate on the certificates the expiration date for each vaccine as there is some variation between veterinarians as to the length of time each vaccination is valid. To save time at drop off please email records to rexpointekennels@gmail.com, or fax to Rexpointe at 248-879-0310 prior to your appointment.
Average Prices for Grooming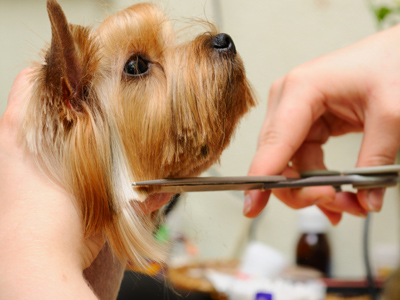 All prices quoted for dog grooming are APPROXIMATE, based on an average size of pet (according to breed) in GOOD condition. If your pet is exceptionally large, heavy coated, matted, or difficult to handle, it is possible the fee will be higher. If your pet is exceptionally small or short coated (for breed), the fee may be less.
| | |
| --- | --- |
|                  Sample Prices for Bath/Nails/Tidy: | |
| Pug, Jack Russell (smooth), Dachshund | $28-$32 |
| Lab, Pointer, Rottweiler | $36-$40 |
| Golden Retriever | $50-$70 |
| Husky, Bernese Mountain Dog | $55-$90 |
| Nail Trim only $10-12, Dremel/File Nails additional $6 | |
| | |
| --- | --- |
| Sample Prices for Full Grooming with Haircut: | |
| Yorkie, Shih Tzu, Toy Poodle, Maltese | $50-$54 |
| Schnauzer, Cocker Spaniel, Mini Poodle | $54-$58 |
| Golden Retriever | $60-$80 |
| Mini-Doodle (under 40lbs) | $55-70 |
| Goldendoodle, Labradoodle | $80+ |
Teeth Brushing: Brushing your dog's teeth, like your own, needs to be done every day to be effective and is best done by the owner at home. We do not offer teeth brushing as a service. Your veterinarian is the best person to manage your pets dental health.
Why Regular Pet Grooming is Important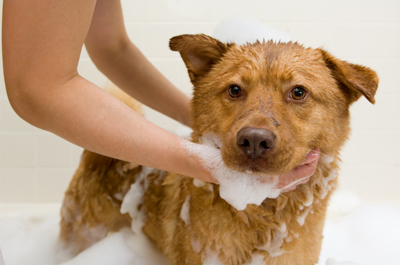 Regular grooming for your dog either professionally or at home, is essential for health and well-being. If your pet is one that requires professional grooming, he/she likely requires regular grooming at home, including brushing and combing. We can make your pet BEAUTIFUL with a little help from you. If your dog requires care between haircuts that you are unable to provide, we offer bath, brush, and nail trim services to keep your pet looking and feeling good. If your pet's hair becomes tangled or matted, we may have to shave the mats off. Please don't get angry with us! Though we want them to look as nice as possible, their comfort and safety is our primary concern.
We groom your pets because we love them. We do not want to cause any discomfort or potential injury by attempting to brush out tightly matted hair. Even shaving can be uncomfortable as clippers pull on matted hair. If mats are tight close to the skin, there can be additional risk of injury or inadvertent nicks of the skin. We always use the utmost care to avoid injury to badly matted dogs. If you have allowed your pet's coat to becomes neglected, you may be asked to sign a waiver of liability. Our groomers highly stress the importance of regular grooming to avoid these situations.