Dog and Cat Boarding Rates
Daily rates for boarding depend upon the breed, size, and age of your pet. Dog and Cat Boarding Rates are subject to change without notice. Rate quotes by body weight are only estimates. The overall size and temperament of the dog determines what size kennel will be appropriate and comfortable. Additional fees may apply for pets requiring extra care due to age, health, behavior or aggression.
Current Dog and Cat boarding rates as of March 1st 2020:
| | |
| --- | --- |
|  Small dogs (under 15 lbs) |  $32 per calendar day |
|  Medium dogs (15-35 lbs) |  $34 per calendar day |
|  Large dogs (over 35 lbs) |  $36 per calendar day |
| | |
|  Cats (all sizes) |  $20 per calendar day |
Multi-pet discount: 3 or more pets from same family 10% off boarding rate
Long Stay Discount- 10% discount on boarding rate for 30 days or longer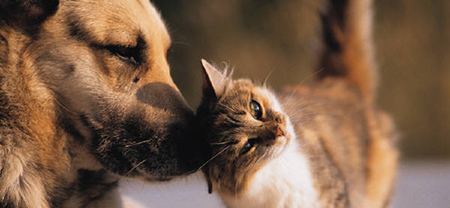 PLEASE NOTE: Because of our convenient hours for drop off and pick up, it is our policy to charge for the day of drop off and day of pick up regardless of the time of day the pet is accepted or discharged. Payment is due in full at time of pickup, cash or check only. There is a charge for all checks returned for insufficient funds.
The following is included in the Daily Boarding Rate:
Private indoor/outdoor runway for dogs

Small Dogs: 10 feet long

Medium dogs: 15-30 feet long

Large/Giant Dogs: 30-60 feet long

All dogs will go outside at least 4 times per day to their own private outdoor area for exercise and elimination
Multi-Level/Multi-Room Private Condo for Cats (Indoor Only)
Heated/Air Conditioned indoor space
Room Service

All indoor kennels are fully cleaned/disinfected every morning

Outdoor runways are inspected, cleaned and scooped twice daily

Litter boxes cleaned and scooped twice daily (cats)

Freshly laundered bedding provided every morning and replaced thru out day if needed

Staff inspects kennel 4 times per day to fluff pillows, 

spot clean and refill water bowls
Complimentary Breakfast and Dinner (Owner's Choice)

Dogs:

Kirkland Signature: Chicken, Rice & Veggie or Lamb, Rice & Veggie (both similar and interchangeable with Iams)

Kirkland Nature's Domain: Beef and Sweet Potato- Grain Free

Member's Mark: Wild Caught Salmon and Pea- Grain Free

Science Diet: Sensitive Stomach

Cats:

Purina Cat Chow

Science Diet Sensitive Skin and Stomach

Owners may also elect to bring food from home

Kennel Provided bedding

Fleece blankets, comforters, stuffed beds, raised cots etc

FREE candid photos during activities uploaded to our Facebook page
Treat time midday with owner provided treats
Routine Medication administration for dogs. 
Unlimited attention from staff from 7:30am-9pm (no times of reduced staffing/interaction)
Drop off and Pick up anytime from 8am to 8pm Mon-Sat, Noon-8pm Sunday  (NO STRICT CHECK IN/CHECK OUT TIMES)
Packing for your visit:
Vaccine Records (if needed)
Owner's food (no additional fee)

We request that all owner provided dry foods be packaged in zip lock baggies- 1 baggie per meal. Cans should be labeled with your last name on side of can, and perishable foods should be packed for refrigeration.
Please prepackage all refrigerated/home cooked/Raw Diets in individual zip lock bags- 1 bag per meal.  Any foods requiring extra preparation is subject to an additional fee.
Feel free to contact us ahead of time to discuss your pets feeding requirements/needs.

Medication:

Medication should be brought in a plastic container/baggie, clearly labeled with your pet's name, name of medication and dosage information.
If your pet is on multiple different medications a pill organizer and a card with description of medications is ideal. Special medication requirements may be subject to an additional charge.
A record will be kept of the administration of each dose to your pet. Please bring a few extra doses in case the pick up date changes.

Owner provided bedding:

As always, we will provide a variety of bedding for all of our boarders. Although it is not recommended, if you plan to bring your own bedding it must fit in a standard washing machine.
We sanitize all runs daily and launder all bedding in order to keep our boarders in a clean and healthy environment. If you choose to bring your own bedding, please launder before drop off.
Because we wash items often, and dogs may damage things during boarding, we are not responsible for any damaged or missing items.

Extra Goodies:

Feel free to bring toys, treats and non-rawhide bones to be given to your pet during their stay. We also have a variety of toys, treats, and approved bones available for purchase at drop off.