Health and Safety
The overall Health and Safety of your pet is extremely important to us. We require all boarders to have the specific vaccinations listed below to provide the best prevention of serious contagious illness in the kennel. We use hospital grade disinfectants to ensure clean and sanitized facilities. Animals are carefully observed, and their appetites and stools are monitored daily. If any medical concerns arise, we will contact your regular veterinarian as soon as possible and act promptly on their advice. Emergency care and transportation are provided if needed.
Vaccinations
No pet will be accepted without vaccination certificates currently valid for the following:
Cats:
Rabies
Feline distemper/upper respiratory combination (FVRCP)
Dogs:
Rabies
Distemper (DHPP/DAPPv)
Bordetella
Canine Influenza (CIV H3N2/H3N8)
For older dogs/dogs with vaccine reactions:
Rexpointe will accept antibody titer testing in place of vaccination or a letter of exemption from your veterinarian, if tested/examined within the last 12 months.
Please ask your veterinarian to indicate on the certificates the expiration date for each vaccine as there is some variation between veterinarians as to the length of time each vaccination is valid. To save time at drop off please email records to rexpointekennels@gmail.com, or fax to Rexpointe at 248-879-0310.
Rexpointe Kennels follows a strict vaccination protocol, but please acknowledge that no amount of vaccination requirement, sanitation or personalized care can prevent pets from contracting an airborne virus or communicable disease. Rexpointe kennels has gone to great lengths to find hospital grade, yet animal friendly disinfectants and cleaning products that will kill 99.9% of all bacteria/viruses. We have also installed electronic air filtration in our HVAC system along with UV lights and the REME HALO system by RFG Environmental Group which uses Advanced Oxidation to reduce airborne contaminants such as bacteria, viruses, and molds.
Food and Medication
The kennel stocks a variety of quality dry and canned canine and feline diets. Your pet will be given food that most closely duplicates his home diet (diets on hand are listed below), or you may provide particular diets when required.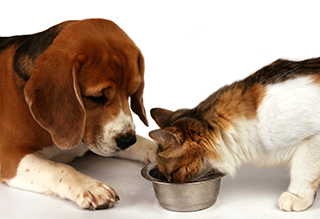 All pets are fed twice daily unless otherwise requested. Should your pet not eat it's meal immediately, it is left down to graze until the next meal, at which time we will pick it up, feed a fresh meal, and note how much was left uneaten.
Medication must be furnished by the owner and should be brought in a clearly labeled container with the name of the drug, quantity per dose, and number of doses each day, and the name of the veterinarian who prescribed it if possible. Special medication requirements may be subject to an additional charge. A record will be kept of the administration of each dose to your pet. Please bring a few extra doses in case the pick up date changes.
Dry dog foods
Kirkland Signature: Chicken, Rice & Vegetable
Kirkland Signature: Lamb, Rice & Vegetable
Kirkland Nature's Domain: Grain Free Beef and Sweet Potato
Maker's Mark: Grain Free Salmon and Pea
Science Diet: Sensitive Stomach
Purina: Dog Chow
Royal Canin: Gastrointestinal Low Fat (additional charge)
Canned dog foods- can be added in small amounts to encourage appetite
Nature's Domain Turkey and Pea
Pedigree Chicken & Rice
Pedigree Lamb & Rice
Royal Canin Gastrointestinal (additional charge)
Dry cat foods
Feline Science Diet Sensitive Stomach
Purina Cat Chow
Canned cat foods- Can be added in small amounts to encourage appetite
Whiskas, 9-Lives, Friskies
Bedding, Dishes, and Personal Items
We have learned through experience that most pets show little or no interest in toys or other personal items brought from home due to the excitement around them. You are welcome to bring such items, but we ask that you keep them to a minimum and understand that we are not responsible for their return or the condition of the item if returned. All dogs and cats are provided with clean and comfortable bedding and blankets that can be easily sanitized. Using kennel provided bedding prevents loss or damage to items brought from home. All owner provided bedding must fit in a standard washing machine, we sanitize all runs daily and launder all bedding in order to keep our boarders in a clean and healthy environment. A moderate amount of treats may be left for the pet and they will be given daily at an appropriate time.
Elderly Pets
Elderly pets and those with significant chronic medical problems should be boarded with your veterinarian.
In the case that Rexpointe Kennels agrees to board your elderly pet, additional contracts and medical decisions are required.